Often, we find ourselves frantically trying to get through airport security, finding the correct gate in the labyrinth that an airport can be or quickly transiting through the terminal that we never have time to stop and explore the beauty within. We have curated a list of the best quirky, cultural and impressive art installations within airports from around the world so the next time you find yourself in these destinations you know what to look out for!
Albany is famous for two reasons: being the state capital of New York, and being the Guggenheim of US airports. Albany International employs a Director of Arts & Culture, Sharon Bates, and is famous for its many and varied ceiling installations in its terminal, such as Chris Victor's untitled work, found in Concourse B.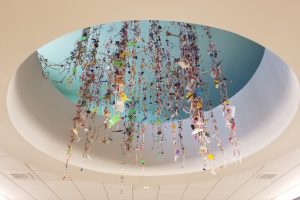 2. While many installations at airports can feel like they are trying to help you forget you're in an airport, Suitcase Wheel at San Antonio International does just the opposite. The 16-foot wheel of vintage luggage was first exhibited at the Contemporary Arts Museum Houston in 1995, before finding a more fitting home at SAT in 2013.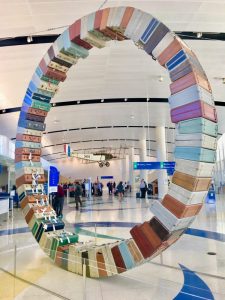 3. People have all sorts of crazy conspiracy theories regarding Denver International, but there's certainly no secrets about this airport being a haven for interesting art. This hand-beaded Volkswagen Beetle made a pit stop at DEN in 2012.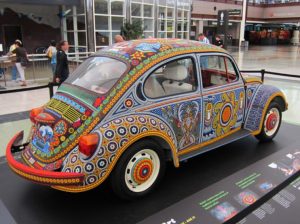 4. Get it? You're in an airport, and there's paper planes. At least that's what they're trying to suggest to us at Lester B. Pearson International in Toronto. Robert Charles Coyle's Flight Song takes off in level 3 of Terminal 1 after passing through security…just in case you're unsure of where you are.

5. Can carpet be artwork? Yes, it can, we say, especially when the airport has gotten as creative as this. One of Sacramento International's skybridges from the parking garage to Terminal A features over 80 kilometres of the Sacramento River as seen out the window of airplanes on common flight paths to and from the airport.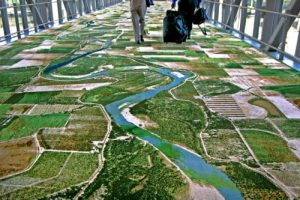 6. Asian airports are well-known for their religious iconography, and this depiction of the Churning of the Milk Ocean, or samudra manthan, is one of the most stunning pieces of art in any airport anywhere. Find it in Suvarnabhumi Airport in Bangkok.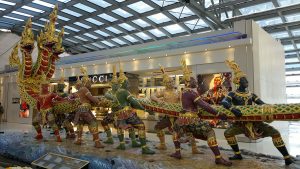 7. Another popular tact to approaching airport art is reflecting the city to which travellers are arriving/departing, and Pittsburgh (known as the City of Bridges), has done that in Pittsburgh International's installation, Arches. This Transformer-looking piece is made up from many of the city's famous bridges.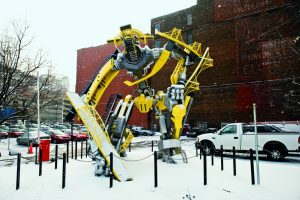 8. To the untrained eye, this may merely appear to be a biplane installation, which while quite fitting in an airport, does not exactly score points for creativity. What's interesting about this plane, located in Hong Kong International, is that it is actually a model of the Spirit of Sha Tin, the first airplane to take off from Hong Kong.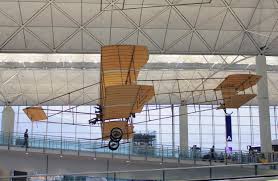 9. Singapore Changi Airport loves its kinetic sculptures, so it's fitting this one is the world's largest. Coming in a pair, they were installed metres from each other, and are visible from the check-in hall.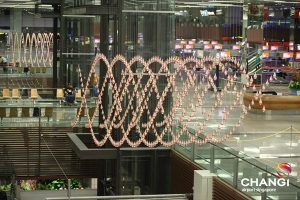 10. You cannot tell us the airport itself is not art – and it certainly is at Pulkovo Airport in St. Petersburg. In 2014, LED emerged from a redesign with this amazing "folded golden ceilings" roof, which design studio Grimshaw describes as representing "the city's rich cultural heritage, its island and bridges, and its arctic weather patterns."