Dramatic gorges, snow-capped volcanoes and pioneer history provide plenty of wonders on a river cruise along America's Columbia and Snake rivers, Brian Johnston discovers.
Most river cruises start on the water, but getting to the upper reaches of the Snake River isn't that simple. My cruise starts on dry land in the Washington State city of Spokane. Then it's onto a coach for a transfer to Clarkston and our first glimpse of river. I grumble over my breakfast pancakes at the thought of a three-hour road transfer, but I'm jumping the gun, as they say in these parts. The landscape of the Palouse region is magnificent, its fertile hills and rolling farmland creating a patchwork of startling colour and shadows that has my forehead glued to the windowpane. If I were a cartoon character, my eyes would be on stalks.
As our coach finally winds down towards the Snake River and into roughhewn Idaho, I feel as if I'm back in the Old West. We're in a land of wide-open spaces, rugged scenery and pioneer adventure. Its river system will take us 700 kilometres almost to the Pacific Ocean. As we sail off through dramatic, arid gorges that glow red in the late afternoon sun, it's also thrilling to be travelling on a paddle-wheeler right out of a movie, operated by American Queen Steamboat Company.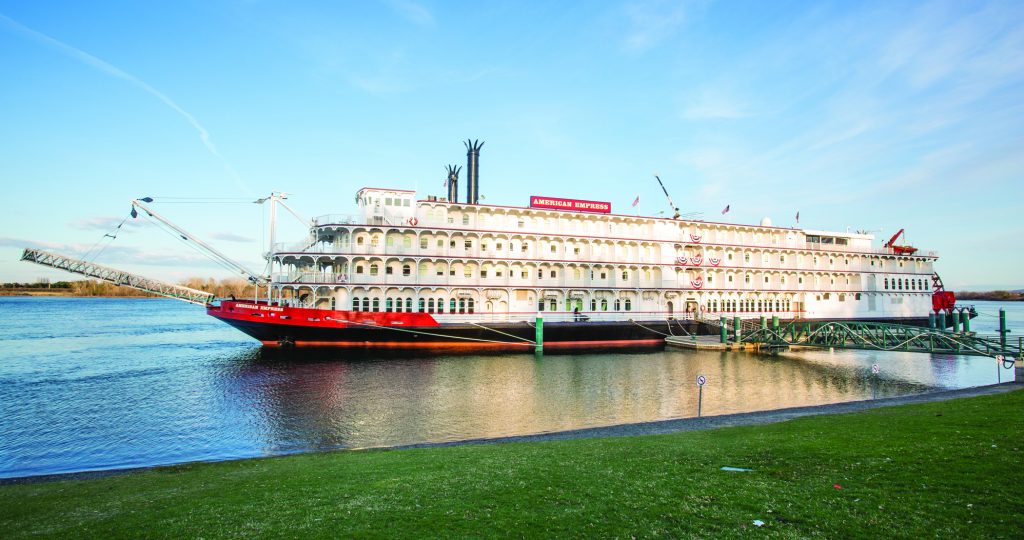 In truth, American Empress no longer runs on stream but on diesel, but the paddle-wheeler has chandeliers, rocking chairs, frosted lamps and gilt-framed paintings, and is hung with wonderful old photography depicting the river's pioneer days. Best of all, though, American Empress has a scarlet paddlewheel that turns and turns, propelling us onwards in a mesmerising glitter of water droplets.
Our starting point is Clarkston, paired with Lewiston across the river. The towns are named for explorers William Clark and Meriwether Lewis, who traversed this region in 1804-06 and effectively opened it up to American settlement. There are numerous sites and interpretive centres along the journey detailing their remarkable achievement, notably in Sacajawea State Park where the Snake and Columbia Rivers meet. The museum here, though small, gives an excellent account of Lewis and Clark's journey, in whose footsteps we're approximately following. On-board lectures give entertaining accounts of the region's history. This is a cruise itinerary that explores the rollicking tales of early exploration, pioneer aspirations and the American dream.
The scenery is extraordinary from the moment the ship sails, and I spend plenty of time striding the decks or sitting on my balcony with a view of the passing riverbanks. Large windows in the main dining room also flaunt passing sights, although the outdoor seating at The Grill is my favourite vantage point as I tuck into steak and lobster tail. There's certainly plenty to ogle, as the Snake River flows through the battered volcanic landscapes and basalt cliffs of semi-desert country. Later, a shore excursion has me spinning in a jet boat through Hell's Canyon, whose flashing red cliffs are sashed with orange. Birds of prey adrift in the tilting sky above.
Views from American Empress are magnificent. As the Snake merges into the Columbia River and flows down past The Dalles, a spectacularly abrupt landscape change brings pine forests, greenery and snow-capped Mt Hood volcano. Douglas firs and red cedars soar in wet woods. Fittingly, the ship tracks back and forth through the gorges several times to showcase its scenery. A shore excursion lets us admire it from another angle too, on the cliff tops at Chanticleer Point and Crown Point.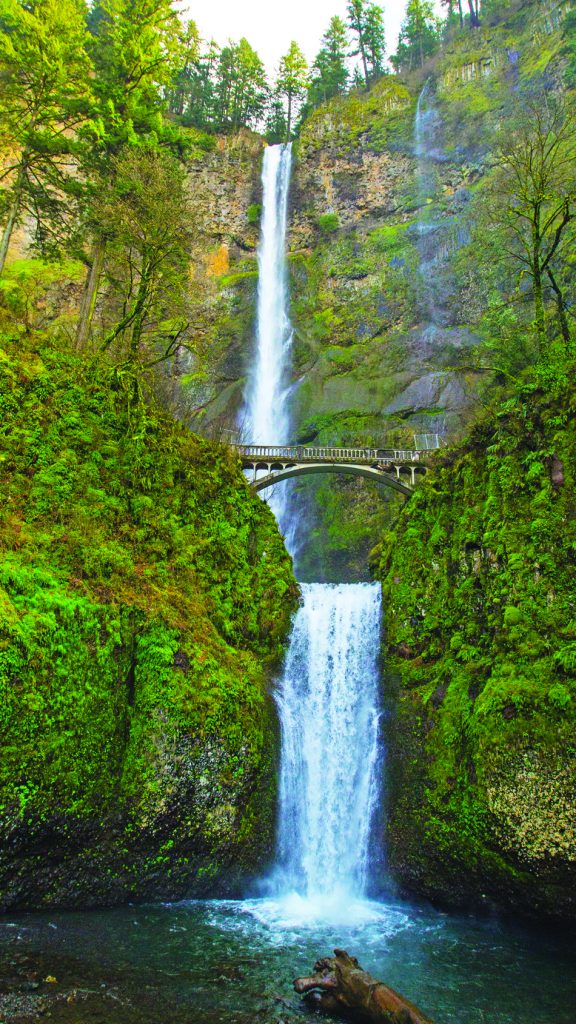 The river, controlled by a series of dams, is now wide as a lake, on which locals windsurf and passengers take an optional kayaking excursion. The Columbia Gorge Interpretive Centre at The Dalles provides a good account of the river's geology and early European settlement, and also has a raptor centre displaying yellow-eyed owls and injured hawks.
The Dalles, painted in murals that depict its history, is just one of our ports of call. It was founded at the end of the Oregon Trail that funnelled nineteenth-century settlers westwards, and is dense with pioneer-era buildings, breweries and brothels. We stop by an old mill, converted into a winery, for a convivial wine tasting. Just downstream, Stevenson is a raw country town draped in American flags and astride a railway track. It has another magnificent setting in the Columbia Gorges, which funnels wind here to the joy of dozens of kite-surfers.
Astoria, near the river mouth towards journey's end, has a quaint appeal. It was founded by fur trapper and soon-to-be millionaire John Jacob Astor in 1811, and has lovely shingle mansions on a green hillside above lush countryside. Old breweries and canneries turned hipster cafés line the waterfront. A six-kilometre riverside promenade leads along the Columbia River, now impressively wide.
Our final destination, Portland, is another highlight, and well worth an extra hotel-based night or two. Oregon's chief city is a delight of breweries, great eateries and very informal folk always ready for a chat, and a great place to unwind after the excitement of our journey on one of America's most epic rivers.