Are you wishing you were on a tropical island sipping a Pina Colada right now? Well so are we! Why not recreate that feeling in your own home? This week we have curated a list of cocktails from around the world so you can sit back, relax and pretend you are off exploring the world.
United Kingdom: Pimm's – Is there anything better than a refreshing glass of Pimm's on a warm afternoon?
Ingredients
180mL Pimm's No 1 Aperitif 700mL
Strawberries, Cucumber slices, and Orange wedges to garnish
Lemonade
Ginger Ale
Recipe
Fill a jug with ice, halved Strawberries, Cucumber slices, and Orange wedges.
Pour in 180mL of Pimm's No 1 Aperitif.
Fill the jug 3/4 of the way with equal parts Lemonade and Ginger Ale.
Fill to the top with more Ginger Ale. Stir and enjoy!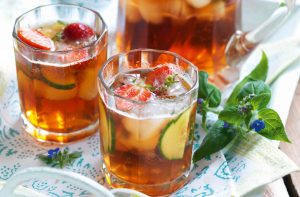 Singapore: Singapore Sling –  One cannot visit Singapore and not visit Raffles to have a cheeky Singapore Sling. So why not pretend you are there tonight?
Ingredients
30 ml Sipsmith gin
15 ml Heering cherry brandy
5 ml Cointreau
5 ml Dom Benedictine
Dash Angostura bitters
10 ml Grenadine
15 ml lime juice
120 ml pineapple juice
Ice cubes
Recipe
Combine all the ingredients in a cocktail shaker and shake.
Strain into a poco grande glass and serve garnished with a slice of pineapple and a cherry.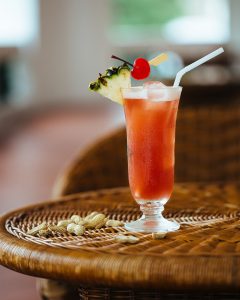 Spain: Sangria – Experience the passion of Spain with this hearty Sangria recipe.
Ingredients
4 oranges
2 lemons
1 apple, unpeeled, core removed, diced
1 teaspoon Ground Cinnamon
1/4 cup brandy
750ml bottle red wine (see note)
1/4 cup caster sugar
750ml bottle soft drink (lemonade, soda water or ginger ale)
Recipe
Thinly slice 1 orange and 1 lemon. Cut each slice into small wedges and place in a large bowl. Add apple, cinnamon and brandy. Stir to combine. Cover and refrigerate overnight.
Juice remaining oranges and lemon.
Combine 1 1/2 cups wine, 1 1/2 tablespoons sugar, 1 1/2 cups soft drink, 1/4 cup orange juice and 1 1/2 tablespoons lemon juice in a jug.
Add half the apple mixture. Stir to combine. Repeat with remaining ingredients in another jug.
Spoon crushed ice into 8 tall glasses. Pour over sangria. Serve.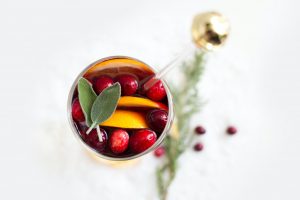 Puerto Rico: Pina Colada – Let's go to the Caribbean and enjoy island life with this Pina Colada recipe!
Ingredients
60ml Buckeye Silver Caribbean Rum 700mL
90ml pineapple juice
30ml coconut cream
Ice cubes
Coconut & pineapple leaves to garnish
Recipe
Add white rum, pineapple juice & coconut cream into a cocktail shaker
Add ice and shake
Strain into a highball glass
Garnish with coconut & pineapple leaves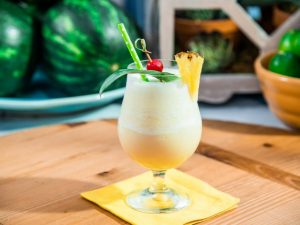 Aperol Spritz: Italy – Travel to Italy and imagine you are in the sitting on your balcony overlooking the Amalfi Coast with this Aperol Spritz recipe.
Ingredients
90ml Porta Dante Prosecco
60ml Aperol Aperitivo
Soda water
Orange wedge to garnish
Recipe
Fill wineglass with ice
Add Aperol and Prosecco.
Top with soda water
Garnish with a wedge of orange