Flowing from Switzerland to the North Sea through six magnificent countries—Switzerland, Austria, France, Germany, Lichtenstein and the Netherlands—the remarkable Rhine River has many tales to tell and enriching experiences to share along its course.

The romantic Rhine is home to fairytale medieval castles, riverside villages, terraced vineyards, and mysterious legends. Having inspired artists for centuries, it's now the most beloved river to cruise in Europe with Scenic.
Here are the top seven enriching experiences on the Rhine River that our Scenic guests have shared they most enjoyed:
Cruise through the 65km-long Rhine Gorge in Germany
With drink in hand, head to the Sun Deck of your Scenic Space-Ship and take in the full majesty of this UNESCO World Heritage Site. More than 40 castles and fortresses stand guard on hilltops and from the Sun Deck, you have 360-degree views of both sides of the river. Your Scenic Tailormade app will allow you to know what you're passing at that exact moment. Sip a fragrant German white wine as you glide past the terraced vineyards clinging to steep hillsides. This magical moment of your river cruise is one you will remember for years to come.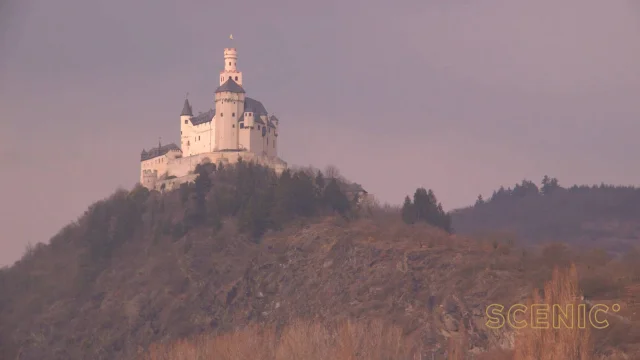 Hear the legend of Lorelei
You will be told many stories and legends while travelling Europe's historic waterways with Scenic and the Upper Middle Rhine Valley is the origin of many of these. The most famous is that of the siren Lorelei. The fable tells of a woman named Lorelai who lived in the village of Bacharach, which you will pass by. Rejected by her lover, but fascinating too many local men, the bishop sent her to a convent. En route, passing a cliff, in desperation and despair, she jumped into the river. There are many versions of this story, but one tells that in the afterlife, Lorelai haunted this cliff with her long locks flowing down the side. She would sing to the passing ships, enchanting the sailors and luring them to their doom in the waters below. These days, a statue marks this area which you will see as you cruise safely by.
Explore the German city of Cologne
Home to one of Europe's most splendid Gothic cathedrals with signature twin steeples, Cologne is a magical riverside city. Explore the quaint cobblestone streets on foot or by e-bike and at Christmas, here you can find some of the best Christmas markets and the largest Christmas tree in the Rhineland. Over 70% of the historic city center was destroyed in WWII, but every building has been lovingly restored over the years.
Discover the historic Heidelberg
Heidelberg is perfect for history buffs. After being all but destroyed by Louis XIV's French troops in the 1690s, it was rebuilt during the 18th century. Luckily, unlike many other German cities, it emerged almost unscathed from WWII. The streets of the Old Town are a joy to wander, and the castle provides a true sense of stepping back in time once inside its walls. It's hard to describe the romanticism of Heidelberg Castle. The ruins are magnificent. Victor Hugo waxed lyrical over the beauty of it in his writings and William Turner painted the ruins many times. The sunset-coloured sandstone has significantly been weathered in some sections and yet, remains perfectly intact in others.
Take in the views from the Middle Rhine towns of Koblenz and Rüdesheim
In the glorious stretch of the Middle Rhine, there's a castle every few moments between Rüdesheim and Koblenz. Koblenz is a 2,000-year-old city where the Rhine and Moselle rivers join and is the gateway to the Rhine Gorge. It is also one of Germany's oldest cities. In Rüdesheim, enjoy some fun experiences such as the Winzerexpress mini train for a guided visit of Siegfried's Mechanical Musical Instrument Museum. Take the cable car to the Niederwald Monument for spectacular views of the Rhine.
Experience the Alsatian culture of France's Strasbourg
Located in the northeast corner of France, this more than 2000-year-old city shares a border with Germany, but the food, language and culture you will find here are neither French nor German – they are Alsatian, a culture of its own. Strasbourg has a French feel, with cobblestone streets, small shopfronts, and of course a grand cathedral. The city's rich architectural heritage makes you feel as if you are wandering in a movie set. The old town is a maze of narrow streets with half-timbered houses, reminiscent of those in fairytales. At each new corner, you will want to stop and take photographs.
Spend time before or after your river cruise in Amsterdam
With canals for streets, more bicycles than people and world-class galleries and museums, Amsterdam is one of Europe's most alluring cities. Many Scenic Europe river cruises start or finish in Amsterdam so it's the perfect opportunity to spend time experiencing the laid-back vibes and Dutch culture. Take one of our e-bikes and explore some of the incredible galleries, taste Dutch favourites such as herring, cheese and poffertjes, or experience the city from a different angle on an iconic canal cruise.
Would you like to explore the magical Rhine River with Scenic?
The Rhine offers many truly enriching experiences, which will create memories to last a lifetime. No two moments on board are the same with a new fairytale moment around each riverbend.
To learn more click HERE or contact your local travel agent.
SOURCE: Scenic