Carnival Cruise Line today announced its 72-hour sale encouraging Aussie couples, friends and families to book their next fun-filled holiday for the chance to experience some summer fun in the sun, with irresistible deals for a limited time only.
The promotion offers remarkably reduced fares on selected sailings from December 2019 to February 2020, with cruises departing from Sydney and Melbourne onboard Carnival Splendor and Carnival Spirit. Experience idyllic island life matched with white-sandy beaches in the South Pacific, or enjoy a long weekend away with a short Fun Size cruise. This offer is available for three days and ends at 11:59pm AEST on 27th September 2019.
Aussies can experience all the fun Carnival has to offer with over 45 activities on board including the Green Thunder or Green Lightning waterslide, mini golf, Broadway-style entertainment, theme nights and the whimsical world of Dr. Seuss with Seuss at Sea™.
An overview of these great deals can be seen below:
AUD
TWIN SALE RATES
Cruise
Departure city
Ship
Dur
Sail Date
Interior
Ocean View
Balcony
S948
SYD
Carnival Spirit
9
09-Dec-19
$729
$899
$999
D947
SYD
Carnival Splendor
8
11-Dec-19
$649
$799
$899
D002
SYD
Carnival Splendor
10
06-Jan-20
$1,199
$1,399
$1,649
D004
SYD
Carnival Splendor
8
20-Jan-20
$949
$1,299
$1,349
S005
MEL
Carnival Spirit
3
24-Jan-20
$349
$499
$599
S006
MEL
Carnival Spirit
11
27-Jan-20
$949
$1,199
$1,349
S008
MEL
Carnival Spirit
12
10-Feb-20
$999
$1,299
$1,549
For more information, visit www.carnival.com.au/sale/72-hour
To book, visit your travel agent, carnival.com.au or call 13 31 94 and quote promo code R72/R73. Terms & conditions apply.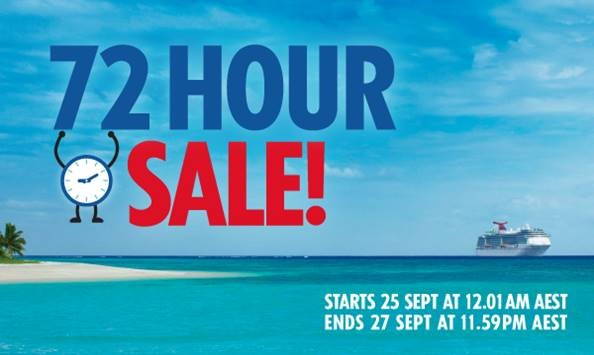 Terms and conditions:
*Fares are cruise only, per person in AUD, in complete twin or quad cabin as specified, based on lead categories at publication date, inclusive of all discounts, charges and taxes (which are subject to change). Visa and MasterCard will incur a 1.1% surcharge, American Express will incur a 2.3% surcharge and debit cards will not incur any surcharge.  Travel agents may charge additional fees – check with your travel agent.  Valid for new bookings only and not combinable with any other offer. '72 Hour Sale' starts 25 Sep 2019 at 12:01 AM and ends 27 Sep 2019 at 11:59 PM AEST, unless sold out prior.  Once this offer ends, fares may revert to a higher fare but may also be further discounted. Some balcony cabins have obstructed views. A limited number of cabins have been set aside at these special fares. Offers are subject to availability. '72 Hour Sale' booking terms: full payment must be made at the time of booking.  15% of fare will be refunded for cancellations up to 15 days prior to sailing; no refund will be issued for cancellations within 14 days of sailing. Fares are not transferable. Cabins are not assigned at time of booking but will be allocated at Carnival Cruise Line's discretion within 30 days of sailing. Booking terms for the '72 Hour Sale' differ from terms that apply to our standard fares and are more restrictive. Please enquire about our standard fares if these restrictions do not suit you. To book standard fares please contact your travel agent or phone 13 31 94. Whilst all information is correct at time of publication, offers are subject to change or withdrawal. To be read in conjunction with Carnival Cruise Line Ticket Contract available at http://www.carnival.com.au/au-legal-notice/ticket-contract.aspx which passengers will be bound by. Carnival plc trading as Carnival Cruise Line. ABN 23 107 998 443. Promo code R72/R73
SOURCE: Carnival Cruises