River cruising really is a great way to holiday. Imagine staying in a floating luxury boutique hotel which gently carries you from place to place, all the while plying you with fine cuisine with everything you could want at your fingertips. One operator has taken the concept "to the next level" with the debut of the "revolutionary" double-width AmaMagna, which took to the Danube River just a few weeks ago. Bruce Piper explores what's new in this latest river cruising innovation.
He definitely was not politically correct, but the driver who picked me up from Budapest Airport had a typically Hungarian greeting when I told him I needed to get to AmaWaterways' new AmaMagna which was docked in the city centre. "Ah, you're looking for the fat lady," he said. Apparently this ship, which at 22m is twice the width of other vessels cruising the Danube, has been quick to get a nickname, and while not particularly flattering, it definitely reflects the many significant differences between AmaMagna and other ships cruising in central Europe.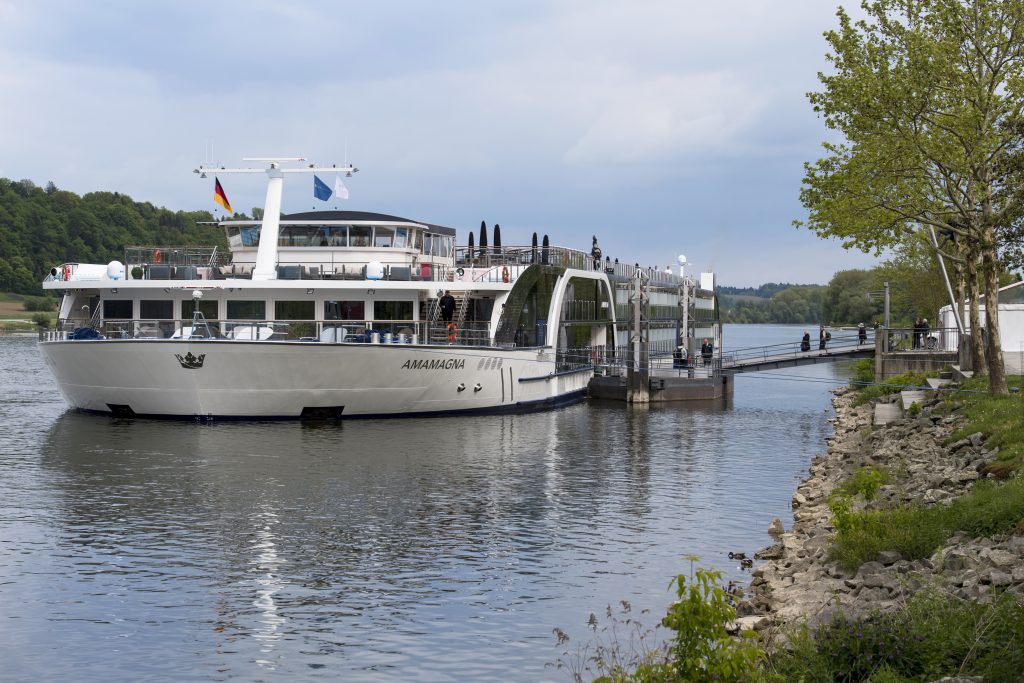 The brainchild of AmaWaterways founder Rudi Schreiner, AmaMagna is a bold departure from the norm, not least because its width means that it cannot undertake the traditional river cruise route between Amsterdam and Budapest. That's because slap bang in the middle of this journey is the Main-Danube Canal in Germany's Bavaria, an engineering masterpiece which connects the North Sea and the Atlantic Ocean to the Black Sea, allowing ships to travel all the way from the Netherlands to Romania. And while it has been a key driver of trade, the canal has a few constraints – not least that ships need to be 11m wide or less to get through.
That magical measurement has driven the design of most river cruise ships plying this key route – but Schreiner, whose company currently operates a 23-strong fleet, has decided the industry is ready for something different. The AmaMagna is about twice the size of other ships, but rather than packing all that additional space with passengers, it only has 96 cabins, meaning it carries just 20% more guests in significantly larger staterooms than its rivals.
Most of AmaMagna's accommodations are suites, ranging from 355 square feet up to a massive 710 square feet, with step-out balconies. The owner's suite on deck 3 has a separate bedroom, its own bar for entertaining guests, a huge walk-in wardrobe and a luxurious large bathroom complete with a standalone bath. That's extreme, but even the normal suites on decks 2 and 3 are significantly bigger than usual, with double sinks in the marble bathroom, two TVs and a comfortable lounge area. The ship features all the mod-cons you'd expect – high-speed wi-fi is free throughout, while an in-room entertainment system offers the latest movies, music and live TV channels.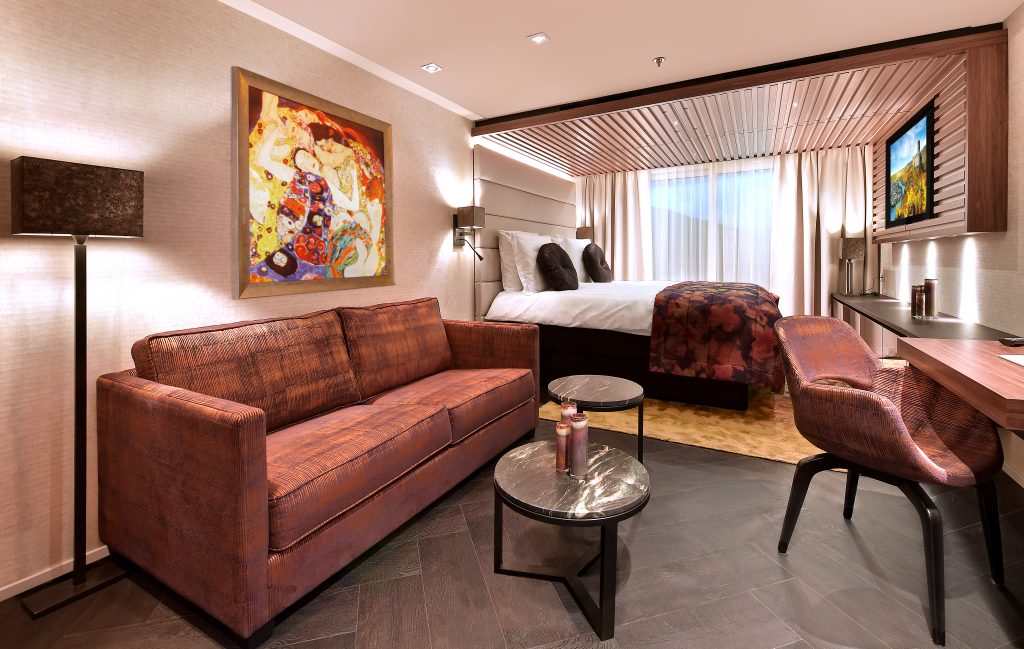 And that's just the start. The ship's additional width has enabled a wide variety of public areas, including two libraries (each complete with a fireplace), a lounge bar and lots of little nooks and crannies to curl up in privacy with a good book. On our cruise AmaMagna was completely full, but you'd never know it, because there were so many spots for different groups to congregate and enjoy each other's company, or just enjoy some alone time. Innovations include an on-board cinema which proved particularly popular with sports lovers, while there is also a large guest laundry, a boutique selling souvenirs and clothing and even a hair dressing salon.
Of course no cruise experience is complete without the food, and here again the innovative design of AmaMagna has enabled the inclusion of four distinctly different dining venues. There's the traditional main dining room on the main deck, offering sublime cuisine paired with local beverages. Also available at no extra cost is the Chef's Table, serving a nightly degustation, which is next to the completely different Jimmy's Bar – a family-style restaurant where shared plates can be enjoyed by young and old. My favourite eatery on board was the appropriately-named Al Fresco, a delightful spot at the front of the ship with a conservatory-like glass roof and forward-facing windows allowing guests to simply watch the world go by.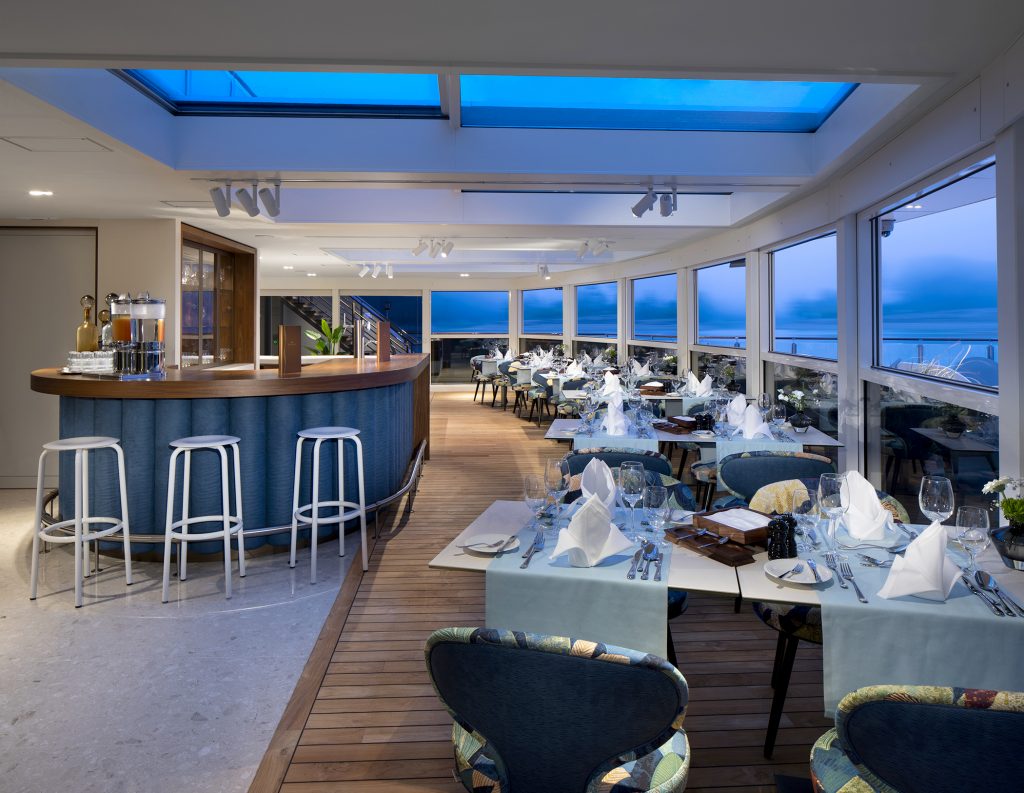 And there's more – too much more to go into detail. Just let me briefly mention the large sundeck, complete with a pool, hot tub and a funky bar. A well-equipped gym is available to work off those guilt pangs from all the delicious food, staffed by "wellness hosts" who lead yoga classes and other activities for those so inclined. Families can book interconnecting staterooms, and some have the ability to sleep three or even four guests. And to top it all off there's a "water sports platform" at the rear of the ship. Schreiner said AmaWaterways was still thinking about how to use this innovation which has the ability to launch an excursion boat for adventurers to explore other reaches of the river.
Australians wanting to experience the AmaMagna can book it through AmaWaterways' Australian partner APT, which offers all Ama departures but also next year will operate its own unique exclusive charter journeying from Budapest towards the Black Sea.