By Kerry van der Jagt
The lone male draws closer, the midnight sun illuminating every strand of his cream-coloured hair. Water droplets pour from his claws as he strides across the ice, the flattened floes shuddering in his wake. Like a stealth bomber, he's locked onto his target.
Yet still she sleeps. Thin and exhausted from days of hunting she lies tucked on the ice, two button-nosed cubs pressed to her sides. Around her, cracks spread like branching veins, cleaving the pack ice and leaving her floating on a glacé island. From our position on the bow of National Geographic Explorer we grip the railing, each of us silently willing the sleeping princess to waken. But she's an ice carving, hewn from snow and oblivious to the danger approaching.
THE FAR NORTH
It's day three of our circumnavigation of Arctic Svalbard, and we are well above 80 degrees north as the drama unfolds. Just minutes earlier I'd been asleep in my cabin when the excited voice of Captain Kruess came over the intercom – "We have polar bears!" With 24 hours of daylight we'd been warned to be ready at anytime. "You've paid a lot of money for this trip," he'd joked. "You can sleep on the plane on the way home."
It's midnight under a platinum sky when I step onto the bow, the moan of ice the only sound as Lindblad's expedition leader Adam Cropp hands me his binoculars, his other hand pointing in the direction of the sleeping mother bear. Adjusting the focus I take in the teddy bear ears, the pads of her paws and the black noses of her cubs, a flood of tears my only reply. Adam looks across and grins. He's seen it before.
The reverie is broken by the arrival of the male, a phantom flying across the ice, his appearance charging the air like that moment between lightning and thunder. Then, in the magical way of timing and chance our ship swings on her axis, intercepting the male and alerting the female, who leads her cubs in a sprint to the water. With a collective sigh, the universe, passengers and crew can breathe again.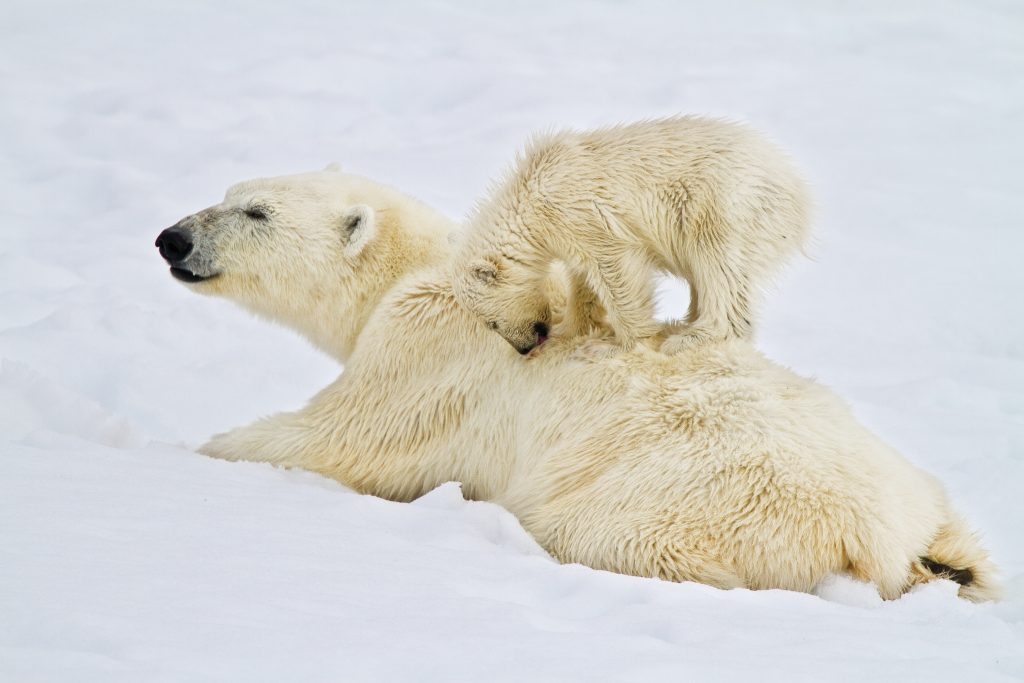 EXPEDITION CRUISING
A three-hour charter flight from Norway's capital city Oslo brings us to Longyearbyen, the administrative centre of the archipelago of Svalbard. It's mid-afternoon when our excited group of passengers, naturalists, National Geographic photographers and ice experts board the 148-passenger National Geographic Explorer for Lindblad Expeditions' 10-day 'Land of the Ice Bears' itinerary.
Since 2004, Lindblad Expeditions has partnered with National Geographic, creating an eco-based alliance based on exploration and conservation. Part of Lindblad Expeditions' fleet, National Geographic Explorer offers a small-ship experience, with advanced navigation equipment, excellent maneuverability and a raft of tools for exploration such as zodiacs, kayaks, remotely operated underwater vehicles and hydrophones.
Accommodating 148 guests in 81 cabins, including 13 cabins with private balconies, six spacious suites and 14 cabins designed for solo travellers, the sturdy exterior belies it's comfortable underbelly. My spacious cabin boasts a queen-sized bed, two large windows, elegant bathroom, work desk, flat panel TV and plenty of storage. There's a spa and fitness centre for those inclined and a Global Gallery stocked with artworks and gifts.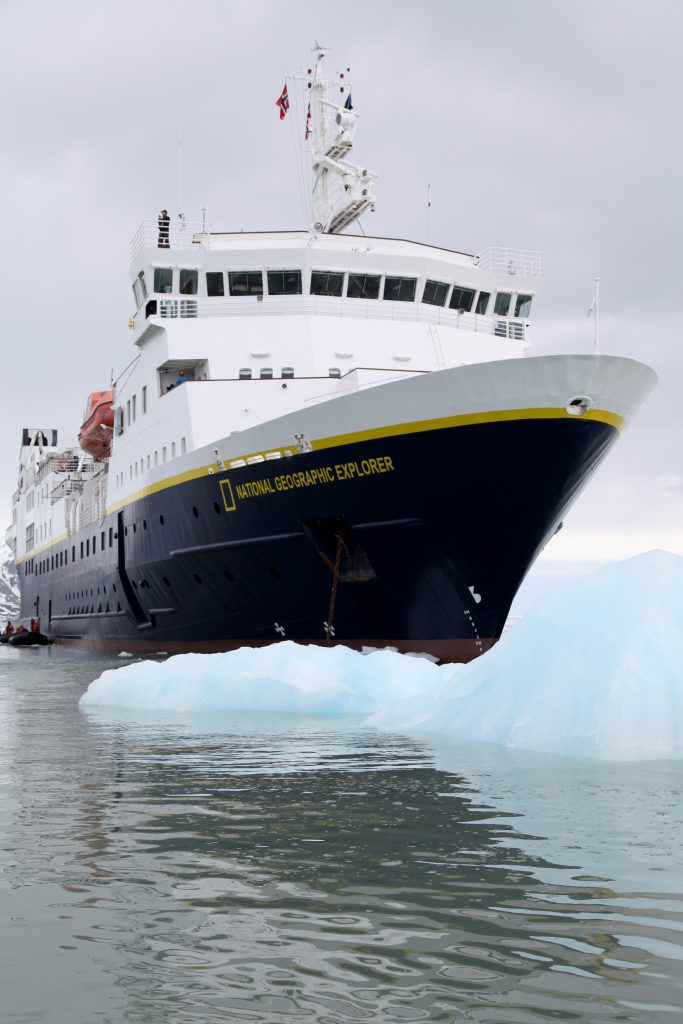 THE ORCHESTRA  OF THE ICE
Leaving Longyearbyen in a clockwise direction our first stop is Krossfjorden, where we skim across sea ice in zodiacs before going ashore at Stephen's Garden. On a beach hike with Adam we see a pod of beluga whales – as plump as cannelloni beans – laugh at the antics of Arctic foxes, and watch walruses fighting with their toothpick tusks. Amid the glaciers my ears begin to tune to the orchestra of the ice – the 'white thunder' of glaciers calving, the tinkle of ice crystals falling, the crunch of plates colliding.
"This disappearing beauty is a powerful statement that can touch anyone who takes the time to listen," says Lera Auerbach, a Soviet-Russian-born composer and concert pianist. Auerbach is travelling with Lindblad to collect data for her next big project – ARCTICA: a symphonic journey – a multi-faceted performance of music and art. "Scientists can tell us the sea ice is disappearing," she says. "But it's through music, art and literature that we can make a human connection. And once we are emotionally invested, we will fight to save it."
Cruising on the whim of the ice we push further north – kayaking through a slushy in Hornsunf Fjord, riding zodiacs through a blizzard of birds, hiking through a narrow canyon at Diskobukta, and watching polar bears gamboling like Labradors.
Nights are for canapés and cocktails, and four-course diners designed in collaboration with chef Serge Dansereau of Sydney's ever-popular Bathers' Pavillion. Evenings are for talks; by National Geographic photographer Richard Reid, ice expert Emeritus Fellow Andrew Clarke and Bud Lehnhausen, a polar expedition leader with Lindblad for 30 years.
That is, until the stars and planets align, and the call goes up – "Polar bears ahoy!" And you know, once again, that sleep will have to wait.