Las Vegas has earned the title as Sin City for its whirling roulette wheels, dazzling slot machines and high rolling lifestyle, but there is much more to this buzzing metropolis as Jenny Piper discovered on a recent visit.
Everything in Vegas moves to a faster beat. Whether it's the dazzling slot machines, the mesmerising neon lights or just the sheer magnitude of people crammed along the Strip, Vegas is a destination like no other. But it's not for everyone, and after my last visit 10 years ago which involved staying at what felt like an RSL club on steroids, with not much to do but spend my hard earned cash into the ever hungry slot machines, I was not in a hurry to return. But Las Vegas has undergone a transformation in the last 10 years and it is no longer just about gambling. On a recent visit I got to see what else is on offer to attract 44 million visitors the city gets each year.
Food and Dining
Every casino on the strip offers a massive array of dining options for different budgets. For foodies who like to name drop, there is a celebrity chef restaurant on every corner, or so it seems. Gordan Ramsay, Nobu Matsuhisa, Guy Fieir and Wolfgang Puck are among them, just to name a few. But if buffet is more your style, the Bellagio buffet is one to try. On Friday and Saturday nights the Gourmet Dinner Service includes a caviar station with an unlimited supply of the 'world's finest caviars' for diners to try.
Fusion style restaurants abound, with venues such as Sushi Samba at The Venetian worth a try. This funky eatery prides itself on its blend of Brazilian, Peruvian and Japanese culinary influences. Not a combination you would expect, but dishes such as Japanese dumplings, Wagyu beef gyozas and Anticuchos ( a Peruvian style street food of marinated meat skewers) prove that anything is possible.
If your want to try something out there, the Elvis pizza at the MGM Grand's Crush restaurant is a must. The offering of shared plate salads, woodfired pizzas and pasta make for a relaxed dining experience, but the Elvis inspired pizza with its creamed peanut butter sauce topped with banana, bacon and Nutella has to be sampled. It's actually not as bad as it sounds.
Activities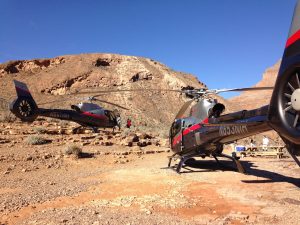 For adrenaline junkies who are keen to break away from the gambling scene, the Stratosphere Casino, Hotel and Tower is the place to go. Here, 350m above the strip are four 'one-of-a kind thrills' for those who dare including the Skyjump, a controlled free fall from the 108th floor.
For those who crave speed closer to ground level, the Las Vegas Motor Speedway is the place to be. Here a variety of operators give rev heads a chance to live out their dreams on the track in performance vehicles such as Porsches, Ferraris, Lambourghinis and Aston Martins. But that's only half of the equation, with endless opportunities also on offer for race track enthusiasts.
The Richard Petty Driving Experience is just one option that allows rev heads to kit up in a racing suit and helmet, climb into a car through the window and get ready to ride shotgun with a professional driver at speeds of over 240km/hr. Those daring enough to give it a try also get to keep in-car video footage of their reaction  to re-live the experience back home. And if driving around in circles on the speedway fails to whet the appetite, there's always the Drag Racing Experience for the ultimate rush.
On the tamer side of things, there are also options such as hot air ballooning tours, indoor sky diving and go kart racing. For travellers who are keen to experience some of the great outdoors, there are numerous golf courses and Las Vegas is in the middle of the Mojave desert so there are great National Parks and recreational areas to explore for nature lovers. Red Rock Canyon is also a short 20 minute drive from the heart of the Strip, offering horseback trail riding, mountain biking or hiking. And then there is canoeing and kayaking on Lake Mead, or rafting from the base of the Hoover Dam.

Culture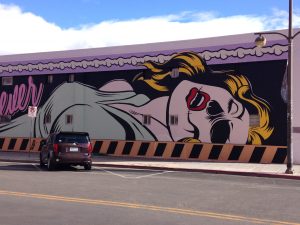 Las Vegas has a fascinating history and a bit of a chequered past with its links to the 'Mob' and organised crime. The Mob Museum, located in the former Las Vegas Post Office and Courthouse details the Mob's past activities such as prostitution, boot legging and its money skimming operations. It also touches on law enforcement and how higher forces have tried to put an end to their criminal activities.
A visit to the Neon Museum is worthwhile for those who are nostalgic about the old Vegas. The 'Boneyard' is the resting place for many of the iconic Vegas signs from places such as Caesars Palace, The Golden Nugget and The Stardust, and tours reveal each sign's unique story and how it fits into Las Vegas history.
Both of these museums are located in the old downtown area of Las Vegas; the original gambling district before 'The Strip' took over. The once-tired area has undergone an urban revitalisation in the last five years as part of the Downtown Project which has seen the emergence of new businesses and infrastructure to breathe new life to the area. The area is fast becoming a hip part of town with lots of bars, restaurants and shopping options. The 'Container Park' with its shops, bars and restaurants provide a glimpse into the new area, or take a wander through the streets to see the amazing street art that now adorns some of the older buildings in the area.
The murals are the result of the street art project from the 'Life is Beautiful' festival which made its foray in Vegas back in 2013. Attracting around 60,000 patrons in its first year, the festival – which sees 15 city blocks close down over three days for a music, food and art celebrations – has achieved quick success, attracting over 90,000 visitors in its second year and landing performers such as Kanye West and the Foo Fighters.
The Rest
Of course a visit to Las Vegas would not be complete without shopping and shows. The options are endless and your clients won't be disappointed by the likes of Elton John, Brittany Spears, and Aussie favourites Human Nature. Cirque du Soleil is also a staple in Vegas, and of course the shopping leaves nothing to be desired with everything from Louis Vuitton to Marshalls. Aussie shoppers also have to stop for a visit to the outlets – no self-respecting shopper can return home without at least one item to brag about to their friends.
While Las Vegas will continue to woo travellers for its casinos with all the bells and whistles, you don't need to be high roller to have fun. No doubt Vegas will evolve as the city's transformation continues, but the new-look Vegas has come a long way from the days of old and I won't wait another decade to make that repeat trip.