Few experiences encapsulate the festive mood better than the Christmas markets of Europe. BRIAN JOHNSTON tests some of the best.
Each northern winter, millions of visitors flock to Christmas markets in old towns across Europe to shop for traditional goods and food, socialize and listen to carol singers. Many markets have a charming regional character, medieval atmosphere and delightful Christmas spirit like nothing you'll ever find in a shopping mall. For some festive fun, here are eight of Europe's best Christmas market destinations that your clients will love for their variety, ambiance and entertainment.
Vienna, Austria
Austria's largest and oldest Christmas market is a light-shimmering, ribbon-strung and often snow-dusted affair in front of the city's neo-Gothic old town, which looks like a mad ogre's residence. Carollers mingle with the crowd, singing classics such as Silent Night and O Christmas Tree in their original language. Heart-shape gingerbread, roast chestnuts, apple strudel and nutmeg macaroons are traditional treats. Few things are better afterwards than a walk back to your hotel under Vienna's illuminated baroque architecture, especially if it's snowing.
Munich, Germany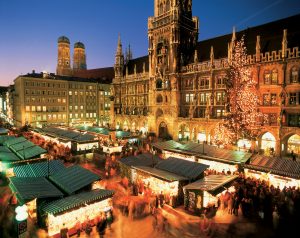 Germany is undoubtedly the Christmas market epicentre of Europe, with prominent markets in Berlin, Cologne, Dresden, Nuremberg and Stuttgart. For cosiness and Christmas cheer, however, the market in Munich's old town Marienplatz is hard to beat. Oompah bands and carol-warbling choirs entertain the crowds from the balcony of the gargoyled town hall, and a 30-metre Christmas tree shimmers like a heavenly vision. Good buys include gingerbread and Bavarian crafts such as music boxes and tree ornaments. The adjacent Viktualienmarkt has stomach-warming food such as potato soup, roast sausages and hot apple pies.
Copenhagen, Denmark
The Danish capital has numerous Christmas markets but, for the best winter wonderland experience, head to Tivoli Gardens. The endearingly retro amusement park sparkles with 50,000 fairy lights and hundreds of illuminated trees, and the lake transforms into a skating rink where you're serenaded by classical music as you spin. Market stalls sell candles, crafts, thick sweaters and wooden dolls, and Tivoli's eateries tempt with apple dumplings, meatballs and mulled wine. Jolly old St Nick makes appearances, and you'll feel like a kid again.
Strasbourg, France
Paris has some good Christmas markets (try the Champs-Élysées and La Defense), but Strasbourg hosts France's oldest Christmas market, running since 1570. It also has an unbeatable location, right beneath the mindboggling façade of Strasbourg cathedral in the heart of the old town: a slice of the medieval come to life. Locals shop for seasonal goodies such as pheasant, duck, venison, seafood and foie gras for the Christmas table, but you might want to make do with candied fruit, chocolate truffles and giant, salt-encrusted pretzels.
Bruges, Belgium
Bruges' central Markt is a ludicrously cute European square: gabled houses look as if they're made of gingerbread, and a medieval belfry soars. Add market stalls that look like miniature chalets with light-draped eaves, and plenty of seasonal spirit results. Buy woollen socks and gloves, beer mugs, glass ornaments and jewellery. Goodies to gorge on include chocolate Santas and honey waffles, while a nip of the local jenever gin will get up your courage for a turn on the skating rink, which might just be the prettiest piece of ice on the continent.
Bologna, Italy
Christmas markets are generally seen as a central and northern European specialty, but Bologna has a splendid market in the shadow of its baroque cathedral. The Fiera di Natale sells the usual Christmas baubles but stands out for its food, as you'd expect in a city nicknamed 'The Fat' for its cuisine. Marzipan fruit, nougat enrobed in dark chocolate (torrone) and short-crust pinza filled with marmalade are delicious. There's another smaller market around the Church of Santa Lucia, and a big New Year's market on Piazza Maggiore.
Prague, Czech Republic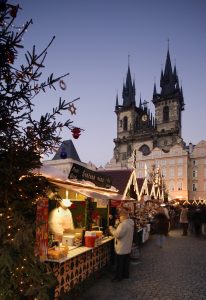 Several Christmas markets enliven Prague over December, but the one in its central town square, sheltered by baroque buildings and medieval towers on all sides, is magical. It features numerous concerts, cultural events and kids' activities (such as ornament making) as well as a life-size manger scene featuring real animals, making this a top market for families. Lovely souvenirs include Bohemian crystal, embroidered lace, wooden toys and puppets. There's also hot-wine sipping and the chance to devour spit-roasted pork and sugar-coated pies.
Image courtesy Czech Tourism
Montreux, Switzerland
Each year, Switzerland puts on some of Europe's most spectacular Christmas events and festivities that see locals and visitors celebrate the season in every city, town and village across the country. Vibrant and colourful Christmas markets can be found in the major cities of Zurich, Lucerne, Bern and Basel, but a highly popular destination during the festive season is Montreux, on the picturesque shores of Lake Geneva. Decorated stalls selling traditional Christmas treats, a variety of Swiss cheeses and mulled wine, handicraft, gift hampers, games and live music, all add to magical festive atmosphere. Cheers!