Whether you're a culture vulture, fitness freak or simply keen to relax in endless lagoons and luxury hotels, this island nation really does have it all, writes Dilvin Yasa.
If ever I've felt like I'm starring in an over-the-top rap video, this must surely be the moment. Lazing at the back of a 45ft luxury catamaran around the pristine waters off Ile aux Aigrettes Island, I'm raising a toast to the sunset behind me as three handsome men in a riot of bandanas sing questionable lyrics in my general direction. I might not be so keen on 50 Cent's 'Candy Shop', but what I am is deliriously happy – happy to be atop the water for once rather than fully submerged in it like I have been since I arrived.
Into the blue
Let's be honest, water play was always going to be a huge part of any trip to Mauritius. Rising out of the azure waters of the Indian Ocean some 2000kms off the coast of Africa, the tiny island is famous for her pristine lagoons, pretty beaches and sparkling seas positively teeming with aquatic life (trust me, it's like dolphin soup out there) and most visitors take to her water sports and charter boats with gusto. I was not original by any stretch of the imagination. Dropping off my things at the luxurious Four Seasons Resort Mauritius at Anahita (fourseasons.com) located at Beau Champ, one of the island's loveliest seaside areas, I took a dip in my private pool before heading out onto the beach to plan a Jacque Cousteau-style assault on the island – one swim-spot a time.
Now, it should be noted that Ile Aux Cerfs with its crowded beaches and over-priced cocktails isn't for everyone, but I quickly discovered the reason why the crowds are here in the first place – the sand is so white and fine it looks like Pablo Escobar's backyard circa 1985 and the snorkelling is second to none. Actually, that's a lie: the snorkelling is a little better at Blue Bay, a public beach which grants the average Joe immediate access to a protected marine park just a short paddle away. If you're serious about snorkelling (I wasn't), experts recommend taking one of the organised tours that operate from this area. Me? I recommend spending the odd day at Belle Mare Plage doing absolutely nothing but enjoying the scenery.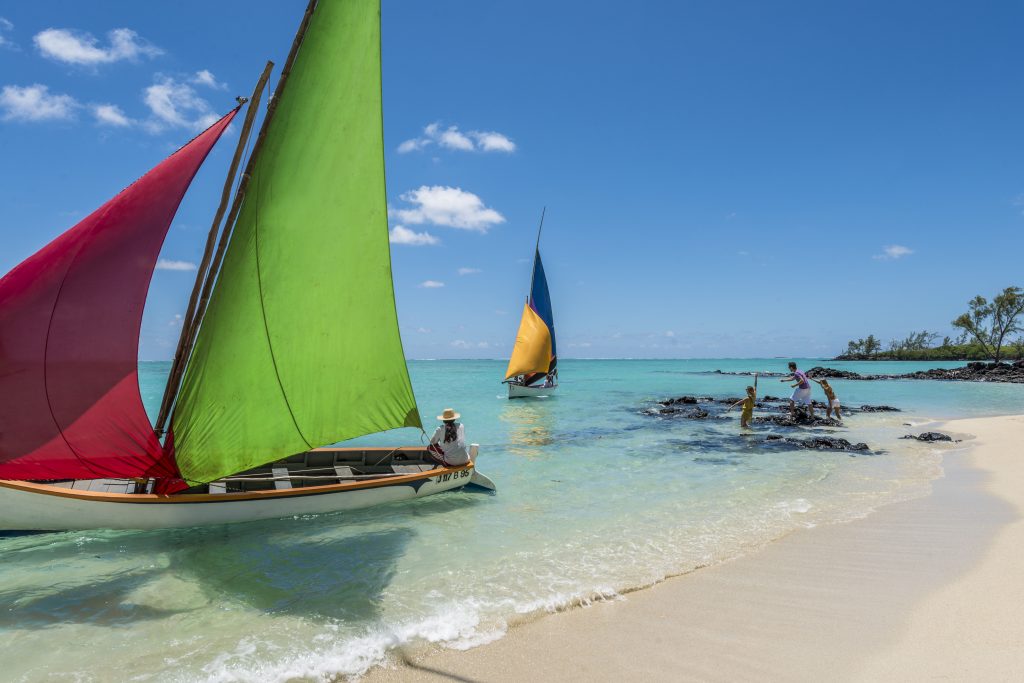 Planet Earth
Now that I'm out of the water and sailing around the seas like I'm an extra in a Duran Duran video, I've begun yearning for a taste for Mauritius outside of the life aquatic – a space where I can sample some of the island's rich cultural heritage (she was discovered by the Portuguese and occupied by first the Dutch, then the French), and enjoy some of her more earthly riches. The following morning, I head to the island's bustling capital, Port Louis, where the vendors of the colourful Central Market are hard at work trying to 'suggestive sell' all manner of embroidered dresses and carved ornaments to passers-by. I'm an easy target (between you and me, I once bought an umbrella for $40 in Bali) and I head off to my next stop – Casela Nature Park (caselapark.com) where animal safaris and walking with lions are popular experiences – weighed down with armfuls of gifts. A zip-line adventure is also offered, but lunch at Eureka La Maison Creole (maisoneureka.com), a grand colonial 1830s home set against the backdrop of Moka Mountains is calling. Renowned for its menu laden with curries and coconut chutneys, I eat lunch on the atmospheric deck before wandering around the home which still sits relatively untouched with original furniture from the 19th century. And after a morning walk admiring the giant water lilies at Pamplemousses Botanic Gardens (AKA Sir Seewoosagur Ramgoolam), and eating my body weight in masala dosa along the waterfront kiosks of Le Caudan, I hit the road once more.

Nature calls
If Eastern Mauritius is known for its beaches and water sports, the south-western part of the island is all about nature pursuits. I start by enjoying a morning coffee at the Seven Coloured Earths in the Chamarel Plain, which is exactly what it sounds like – an area that contains earth coloured seven different colours. It may not be the most exciting way to start the day, but it's certainly one of the prettiest, and when I'm put through my paces doing a walking trail at nearby Black Gorges National Park (not only the island's largest, but said to be its finest filled with more than 300 species of native plants), I'm glad I didn't peak too early. The park offers over 60km of walking trails, waterfalls, canyoning adventures and scenic picnic areas, but I make do with an elementary level trek and high-tail it over to one of the island's most popular sites – Ganga Taleo (also known as Grand Bassin), a peaceful crater lake where the faithful (and the curious) line up to visit the temple dedicated to Lord Shiva and pay their respects to the other Gods lined up along the waterside. It is gorgeous – particularly as the sun goes down, but I feel like I'm missing something.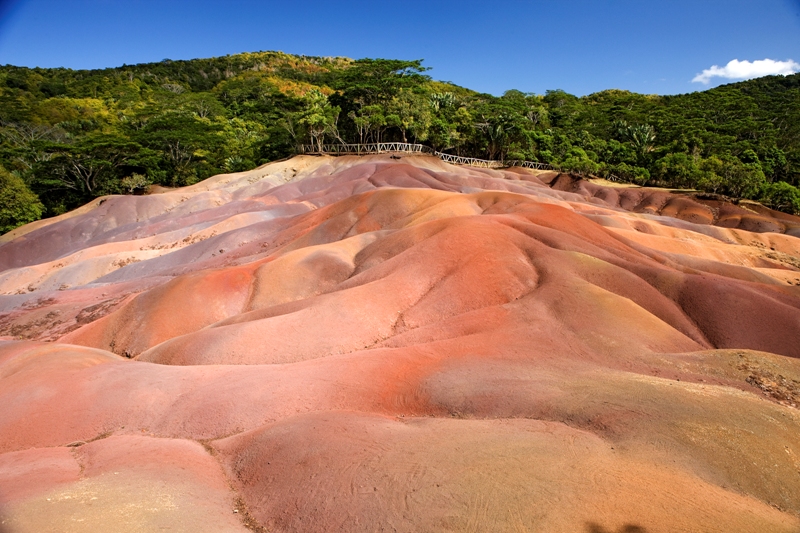 It's only when I check into the award-winning Maradiva Villas (maradiva.com) at Flic en Flac, known as one of the island's prettiest (and most crowded) beach towns, and leap into yet another private pool that I realise what I was missing – water. And happily, surrounded by endless lagoons to explore once more, there really could be nowhere finer.