Craig Tansley comes face to face with the Earth's most unusual creatures on an eight-day cruise through the Galapagos…
"Oh my God, look at that," 300 metres away, a humpback whale is breaching clean out of the Pacific. Oblivious to us, or – like all the other animals around here – encouraged by our presence, it's putting on quite a show for the 20 passengers and 14 crew on-board the MV Origin. But what's almost as remarkable as the whale show itself, is the fact the person most excited about the display is someone who's seen it all before; every year, in fact, for the past 30. But it says a lot about these islands that local guides still get as excited at the weird and wonderful creatures of the Galapagos as any first-time visitor.
"Oh, I've been travelling to many other places, sure," naturalist guide Desiree Cruz says to me. "But look at this place, nothing compares. So I've stopped travelling, and I never, ever grow tired of this."
She has a point. It's midway in our seven-night, eight-day sea excursion through the southern and central islands of the Galapagos, and I'm losing count of wildlife interactions. The major difference at the Galapagos Islands is that animals aren't scared one bit of humans – in fact, the only creatures to scuttle away from us so far were the rare pink flamingos we tip-toed up beside in the salt lakes of the island, Floreana, this morning. Everything else comes to play, and to observe us: it's the most remarkable aspect of a most remarkable island group. So far a pod of rare orca has swum right under our 43-metre boat, the nine-metre-long bull coming up right beside our vessel, before going under us and out the other side. As I've snorkeled, inquisitive sea lions come to look at themselves in my mask, admiring their reflections in the lens, before jumping right over the top of me, somersaulting in the air. Huge green turtles don't seem to care either if I follow them around in stunning, secluded bays; blue footed boobies carry out drawn-out, elaborate courtship rituals just a few metres from where I stand, and any time I'm in the sea whole schools of reef sharks – including some fairly big-looking Galapagos sharks I'm assured are timid – swim all around me.
The MV Origin is the most intimate luxury vessel in the Galapagos. Launched early last year, it has just 10 cabins, with a crew-to-passenger ratio of almost one-to-one. In eight days, I'm waited on hand-and-foot: after sweaty excursions to shore, there's a waiter with hors d'oeuvres and ice-cold beer and wine waiting by the back deck. It has all the mod-cons that come in handy when you're trying to process everything you've seen by day: a bubbling, boiling Jacuzzi on the back deck, an open bar on the top sundeck, and showers with floor-to-ceiling views lest you miss anything while you're preparing for sunset canapes. We're cruising an eight-day route through the Galapagos that takes us away from any of the crowds you'll see on arrival at San Cristobal's airport. Most days out here there's not even another boat to keep us company.
Even so, I love the solace that comes at dawn on the top deck here just before the sun rises, and it's just me and the fast-fading stars as I look across at a new island we've steamed to during the night. The landscape of the Galapagos is incredibly rugged: sheer ridgelines etched out over millions of years rise up above empty, perfect white sand bays. Most islands are completely uninhabited – and the only way to access them is by boat. The only settlements there are in the Galapagos are mostly quaint fishing villages, where sea lions sprawl in the sun right by footpaths, and on seats at harbours like drunken sailors.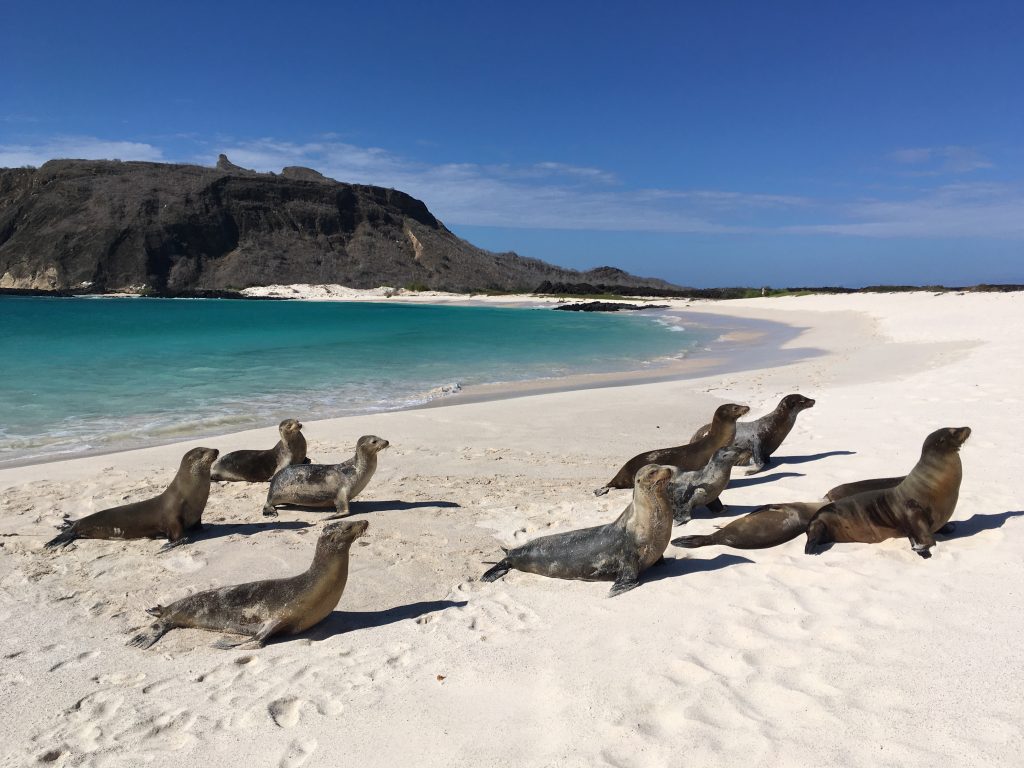 We visit four islands of the Galapagos, arriving at deserted anchorages in the hours just before dawn. After breakfast we travel across smooth blue seas by Zodiac, entering empty bays, finding more wildlife waiting. Our guides explain what's happening around us, though we never have to look far to find the strangest of the Galapagos' creatures. On our first day, we're caught in the middle of a mighty battle between great frigate birds and red-footed boobies, another day we watch a sea lion give birth to her pup as marine iguanas come close to steal the placenta, and one morning a pod of dolphins surf the bow waves of our Zodiac all the way to shore before a group of sea lions circle our vessel, anxious to play.
The Galapagos have been many things through the past 500 years: the haunt of pirates hiding out from the South American mainland, the site of Darwin's discovery of the theory of evolution; though these days they're the bucket list destination of any traveller with a penchant for wildlife holidays. But climbing aboard a vessel like MV Origin allows you to come about as close to the Earth's rarest creatures as you ever could dare… with barely another traveller in sight.