By Ben Alcock
I have had some wonderful, unexpected travel experiences in Abu Dhabi. From the other-worldy atmosphere of the Abu Dhabi Falcon Hospital, to the generosity of local families picnicking near the oasis city of Al Ain, to driving a lap of the Formula 1 race track at Yas Marina Circuit, and enjoying a coffee flecked with real gold, Abu Dhabi never fails to surprise.
And yet, even though dozens of direct flights connect Australia to Abu Dhabi every week, I still sense some confusion. Where is it? What is it? Is it part of Dubai? What's it like? Should I just go to Dubai instead? What's the deal?
In an airport check-in queue recently, I overheard the following conversation between two young Australians struggling with their departure cards:
She: Where are we getting off this flight again?
He: Abu Dhabi.
She: That's in Dubai, right?
He: No. Write 'Saudi Arabia'.
I probably should have corrected them at the time, but it seemed more fun to just see how that would play out at the immigration counter a short while later. So, here's a bit of a low-down on a destination on the rise.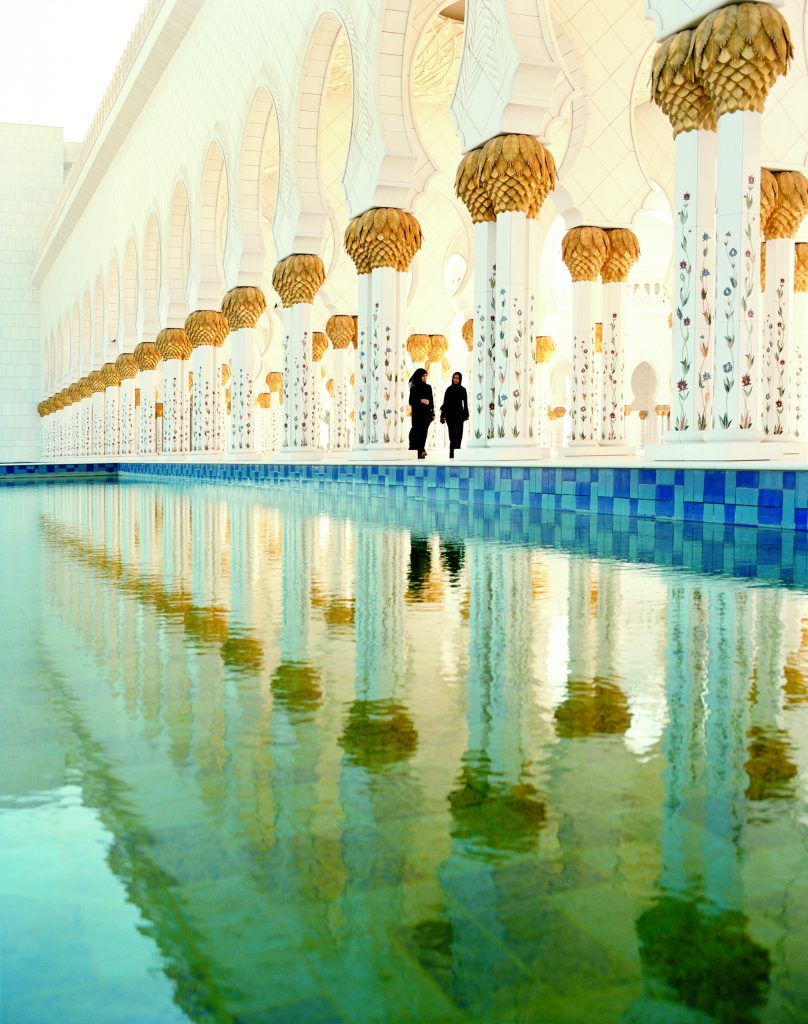 Lesson 1: The Capital
Larger and wealthier than Dubai, and with oil reserves likely to last for generations, Abu Dhabi is Dubai's big sister. About the same size as Tasmania, Abu Dhabi is the largest of the seven emirates that comprise the United Arab Emirates (UAE), making up more than 85% of the country's total land mass. Abu Dhabi is the capital of the UAE and it accounts for about two-thirds of the country's economy.
Lesson 2: No shrinking Violet
Dubai may have demanded the world's tourism attention with its astonishing, gleaming, look-at-me reinvention of the last decade or so, but Abu Dhabi is no shrinking violet. Sure, this is a place developing assets with a real sense of substance, but it is also home to a hotel with an ATM that dispenses gold bars and sprinkles gold on its petit-fours, and the world's largest indoor theme park.
Lesson 3: Get Curious
With a culture that has developed over millennia, there's plenty to be curious about. A terrific place to start is the Sheikh Zayed Grand Mosque which is open to visitors and offers guided walk-in tours. The mosque is monumental and has a capacity for an incredible 40,000 worshippers. It is a wonderful, welcoming place of worship and discovery, arguably the country's most important contemporary architectural treasure. Join a walk-in tour and ask lots of questions, it's a fascinating window into a people and a culture.
Another window opens at the Abu Dhabi Falcon Hospital – without doubt, one of the most intriguing cultural attractions on the planet. The ancient practise of falconry remains an important expression of social status here, and the hospital receives a daily parade of feathered patients who pop in for a check-up, a beak and nail file, an x-ray, or maybe some colour-coordinated flight feathers. Utterly remarkable.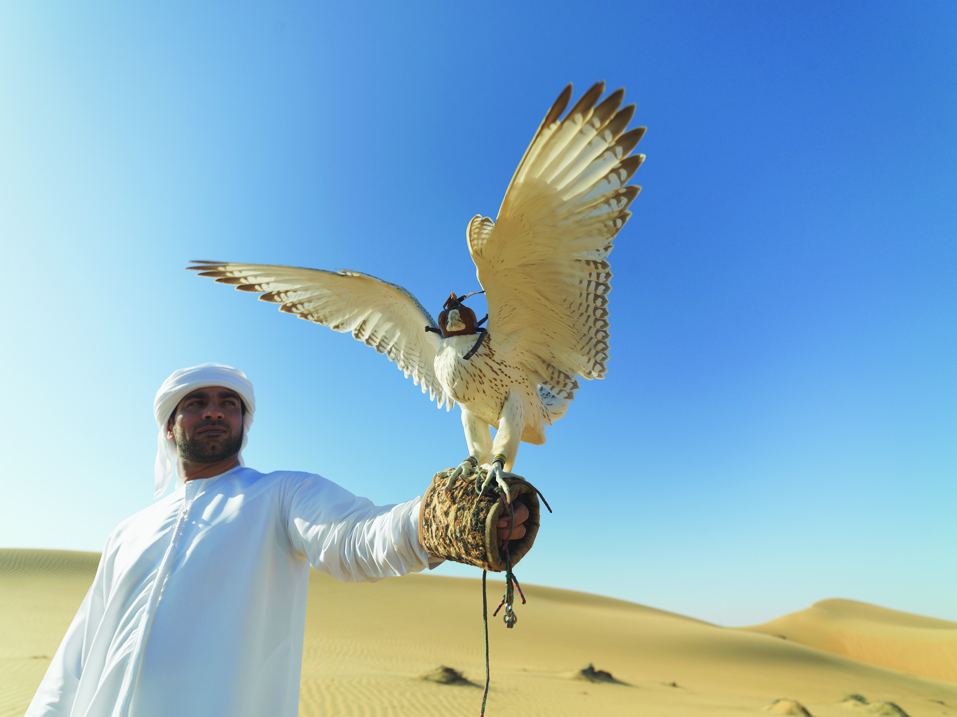 Lesson 4: Get to Know the Islands
Abu Dhabi is home to some 200 islands that sparkle along 700 kilometres of coastline. These islands play an important role in the Abu Dhabi story. Take these ones, for example:
Yas Island
Yas is a dedicated entertainment destination 30 minutes from the city centre. It is home to the absolutely world-class Yas Marina Circuit – home of the Etihad Airways Abu Dhabi Grand Prix – which offers a number of behind-the-wheel experiences, and Ferrari World – the world's largest indoor theme park. Ferrari World rises from the landscape like a gigantic red crustacean and houses a number of Ferrari-themed attractions including Formula Rossa – the world's fastest roller coaster which reaches 250km/h in under 5 seconds.
The island is also home to Yas Waterworld with its '238-metre long, world's first, and largest hydromagnetic-powered, six-person tornado waterslide'. On Yas Island's western shore lies Yas Links Abu Dhabi for the golfers. If you prefer malls to balls, then you'll also find Abu Dhabi's largest shopping centre here on Yas.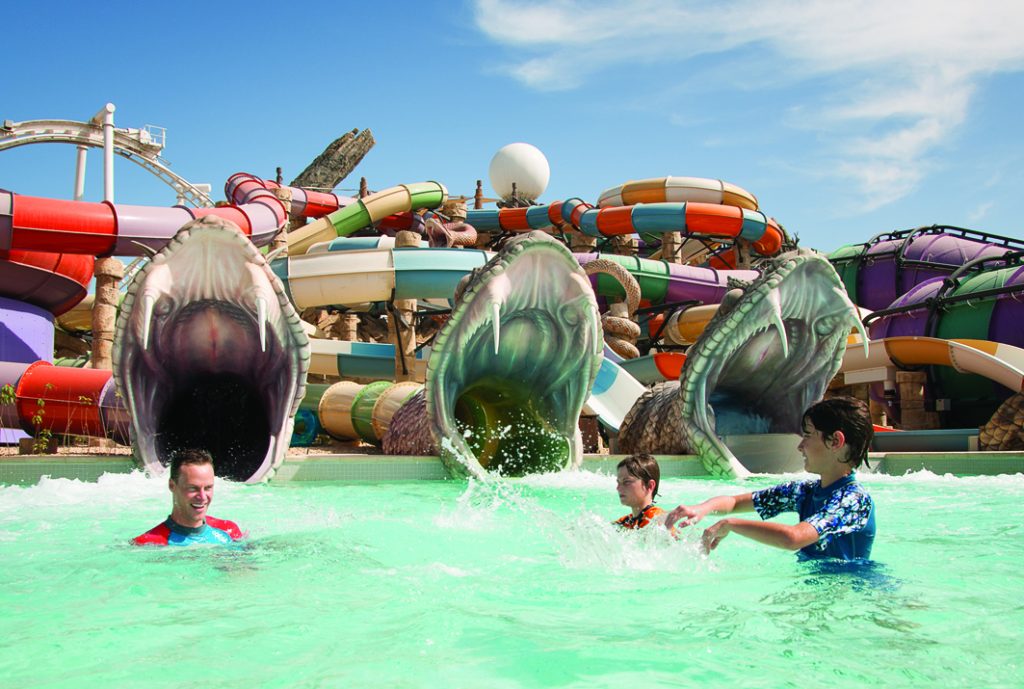 Saadiyat Island
Saadiyat is being developed as a cultural precinct just seven minutes from downtown Abu Dhabi city. The island is undergoing a remarkable transformation to house an unprecedented collection of galleries and museums designed by the world's greatest architects including Jean Nouvel's Louvre Abu Dhabi  In time, it will be joined by the Frank Gehry designed Guggenheim Abu Dhabi, and the Zayed National Museum by Foster + Partners.
Sir Bani Yas Island
Sir Bani Yas sits 170km southwest of Abu Dhabi, nine kilometres offshore and is one of eight that make up the Desert Islands of Al Gharbia. It is home to three luxury Anantara resorts and more than 10,000 free roaming animals including Arabian Oryx, gazelles and giraffes, hyenas and cheetahs at the Arabian Wildlife Park. The island is also home to the only known Christian monastery discovered in the UAE. Believed to have been built around 600 AD, and abandoned in 750 AD, it wasn't discovered until 1992.
Lesson 5: Smile
Arabian hospitality is legendary, a legacy of a time when travellers crossing the desert were welcomed into strangers' homes on their journeys. Encounter a family picnic or gathering in contemporary Abu Dhabi and all it takes is a smile to feel the welcome. Sit down. Join us. Where are you from? You must have some of this. This will very likely be something slow-cooked, fragrant and delicious.
Lesson 6: Every Possible Luxury
Most cities have an iconic hotel, and Abu Dhabi's is Emirates Palace. This huge property – reportedly the most expensive hotel complex ever built – is spread across 100 hectares, and has a main building that stretches over a kilometre from wing to wing. Its central dome rises more than 70 metres, and crystals, mother-of-pearl and gold dominate the hotel's interior. Perhaps not surprisingly, gold also features on menus here, too. The hotel's famous Palace Cappuccino is sprinkled with 24 carat gold flakes, and the Emirates Palace Camel Burger is a "sumptuous camel mince patty infused with local spices and offset by a touch of truffle mayonnaise on a gold-dusted bun".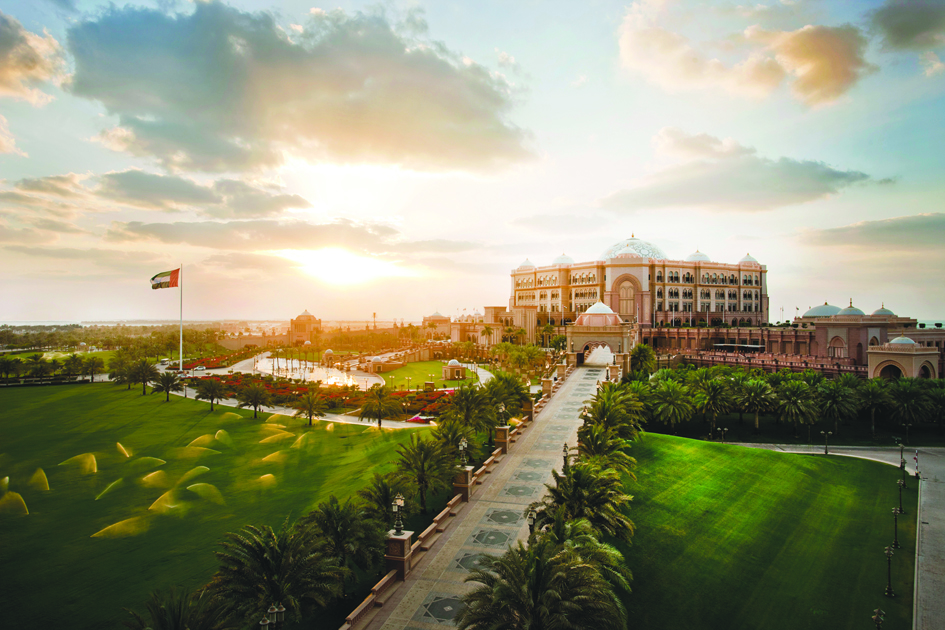 Abu Dhabi is like that. One minute you're at a Falcon Hospital face-to-face with a powerful bird gripping your arm through a heavy leather glove as if to make the point, "You think you're holding me, do you?" And the next you're picking flecks of gold out of your teeth. Both are, for mine, absolutely Abu Dhabi experiences.