Dr Who might take to his Tardis to travel through time, but visitors to Israel and Jordan can do the same by coach or car, and uncover thousands of years of history, writes Brian Johnston.
The neighbouring countries of Israel and Jordan are crammed with biblical and historical sites, rugged coastlines and spectacular desert scenery. Tourism infrastructure and hotels are good, English is widely spoken and Jordan in particular has famously friendly people, making travel through these twin destinations an easy pleasure.
The current Kingdom of Jordan is a relative newcomer on history's grand stage, only created in 1946. Still, its barren landscapes conceal a dizzying array of archaeological sites, from a multilayered, 6,000-year accumulation of ruins at Bet Shean to the sixth-century mosaic-decorated churches at Madaba and a Crusader castle at Karak. Jerash is one of the Mediterranean's best-preserved Roman cities, complete with colonnaded streets, theatres, temples and palaces. You can still see the paving ruts left by chariot wheels, and the bathhouses where Romans once splashed and gossiped.
Amman, Jordan's capital, is one of the most progressive cities in the Middle East, with an energetic vibe and hospitable inhabitants. The hilly city admittedly lacks the glamour and great Islamic architecture of Cairo or Istanbul, but provides delightful contrasts in its gleaming shopping malls and spice-crammed souks, lively nightlife and crumbling ruins. A popular boulevard for evening strolls runs right by an Ancient Roman amphitheatre.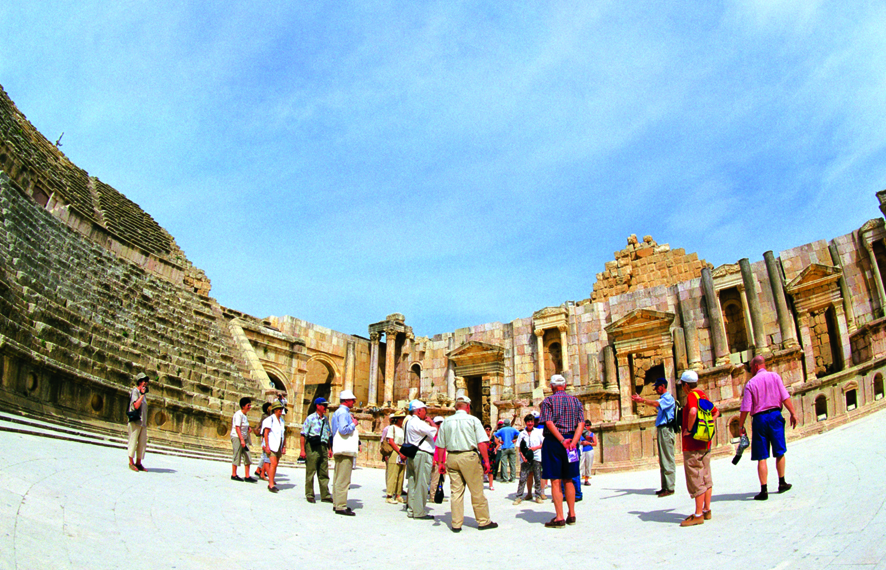 The highlight of Jordan is Petra, ruined sixth-century city of the Nabataeans, an Arab tribe that grew rich on trade and erected extravagant public buildings, temples and tombs. Access to the ruined city is via a narrow, winding canyon called The Siq whose cliff faces are banded in red and orange, at the end of which you get your first magical glimpse of Petra: the famous rose-red facade of the Treasury building. Beneath its columns, camels groan under weighty tourists and hawkers circulate with Roman coins.
Further down the valley stands a 7,000-seat amphitheatre. You can follow the colonnaded main street of the later Roman city, and trace the outline of marketplaces, swimming pools and palaces. Across the canyon loom royal Nabataean tombs carved from the cliff face. Finally, clamber up to the Monastery and contemplate its brooding, monumental facade. Rocky ridges fall away to the desert below, towards the Gulf of Aqaba.
Jordan's attractions aren't all historical. Wadi Rum in the country's south has spectacular red desert cliffs best experienced at sunset on a camel excursion with the Bedouin. You can stay overnight in a tent strewn with rugs and blankets, sit around a campfire and admire the stars to indulge in a Lawrence of Arabia fantasy.
Fifty kilometres south, the resort town of Aqaba on the Red Sea offers some of the world's best coral reefs for snorkelling and diving: a fabulous blue world that contrasts with the flamboyant orange of Jordan's landscapes. Israel's counterpart just across the border is Eilat, popular with local holidaymakers attracted to its seemingly perpetual sunshine.
Jordan and Israel also share the Dead Sea, and on either coastline you should take to the waters to float in its highly salty buoyancy. The Dead Sea's shores, especially in Israel, are dotted with swanky spa resorts. As an added bonus you can visit the fortress of Masada, last Jewish holdout against the Ancient Romans.
Israel's history is just as long as Jordan's, but the country has more varied scenery, a higher living standard and a booming economy. Old-timers from kibbutzim are giving way to a youthful population, and you'll find an ever-increasing choice of fine hotels and restaurants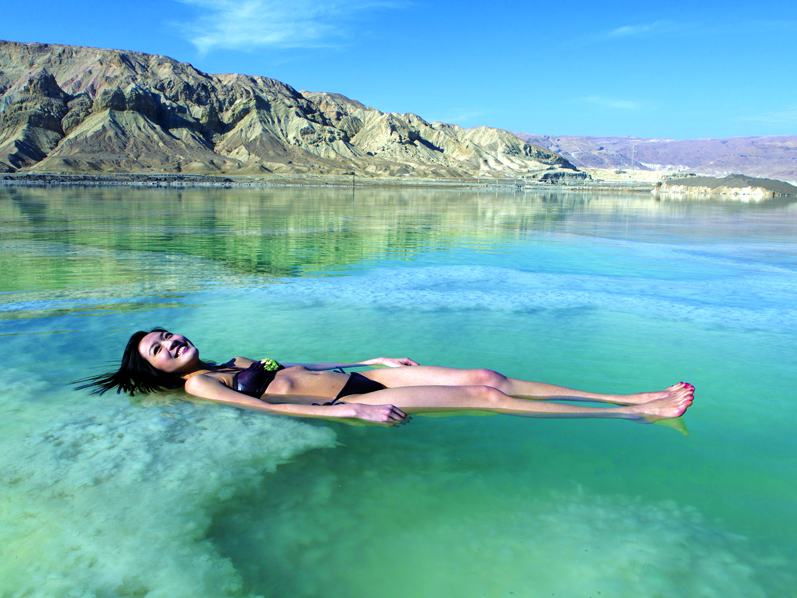 .
On the Mediterranean coast, neighbouring cities Tel Aviv and Jaffa are a study in contrasts. Jaffa dates back to biblical times, and is filled with tottering Turkish palaces and mosques, medieval monasteries and Crusader remains that create Israel's most beautiful old town. The capital Tel Aviv glitters with skyscrapers and nightclubs, has great beaches and food, and tempts with innovative museums and revamped waterfronts.
In northern Israel, you could base yourself in hilly, sea-gazing Haifa and visit neighbouring Acre – a medieval Arab town of bustling bazaars – and the kibbutzim of the surrounding countryside. The inland Sea of Galilee provides a beach and water-sports getaway for Israelis but is also littered with biblical sites such as Magdala (hometown of Mary Magdalene), Tabgha where Jesus purportedly divided the loaves and fishes, and the city of Tiberias, where ancient tombs and holiday discotheques clash.
And so to Jerusalem, troubled city central to three great religions, sitting on the political fault-lines of the Middle East. Plunge into the old city for its exotic bazaars and important religious sites, including the Church of the Holy Sepulchre (Christian), Western Wall (Jewish) and Dome of the Rock (Moslem). The new town is home to world-class performing arts venues, the confronting Yad VaShem Holocaust Memorial and the Israel Museum, a treasure trove of ancient artefacts that include the famous Dead Sea Scrolls. Like both Israel and Jordan, this city is a mix of old and new, a charismatic and often problematic clash of territorial rivalries and spiritual aspirations that will have you mesmerised.