Australians could be heading to New Zealand for a holiday in early July, and venturing to other short-haul international markets by September this year, according to a proposed timetable released by a group of senior travel and tourism experts this week.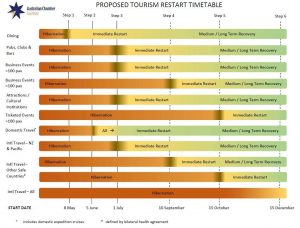 The schedule (pictured) outlines when the Tourism Restart Taskforce believes each sector should be able to begin to move out of hibernation and on the road to recovery, and was created following a meeting last Friday in which Federal Tourism Minister Simon Birmingham was a participant.
Australian Chamber – Tourism Executive Chairman John Hart told Travel & Cruise Weekly the six stages in the timetable would act as "markers" for the industry, and be adjusted based on ongoing health advice and as State Governments made further decisions.
He said establishing a timetable allowed for industry and government to identify the next steps and what measures could be done to reach them.
He noted that domestic travel could begin by the beginning of July, but cautioned "the reality is, tourism cannot restart until the state borders are opened".
On the international front, Hart said there's a lot of activity planning what a trans-Tasman bubble will look like, with the taskforce suggesting early July as a potential start date.
"From the taskforce's perspective, what we wanted to do is put a line in the sand and say it should be possible from that date," he said.
Hart also flagged the opening of further international markets as possible by September or October, but the timetable does not envision a full return of international travel until 2021 at the earliest.
The taskforce also envisions an early launch of cruising, with local expedition voyages potentially phasing in from as early as 05 June.
"Where cruise is on small ships that are not leaving the confines of Australia then they should be considered domestic tourism," Hart said, adding that small expedition cruises, of between 20 and 150 passengers, have a lower risk profile than that of a big ship operator.
"It's basically a clear numbers game and you're not going to be able to infect large numbers of people in that sort of environment," he said.  "You're getting 100 or so guests on board that are pretty well spaced and the operators are committed to having all sorts of COVID-safe practices in place."
He highlighted expedition cruises which go around the Top End and call into the Kimberley an example of product which should be part of the domestic restart, emphasising it was an important part of the season and would be highly sought after by domestic tourists.
Hart said the six steps identified in the timetable would be reviewed and adjusted based on ongoing health advice and as State Governments made further decisions.